In this featured case study, we will delve into how Hearst Midwest Media Group (HMMG) developed a comprehensive print and digital marketing campaign for Bieri Hearing Specialists. The campaign sought to drive appointments and revenue across Bieri's five locations by leveraging powerful messaging, audience reach, and targeting. We will also review how HMMG collaborated with Bieri to reinforce its practices as the local authority in audiology.
Business Challenge
Bieri Hearing Specialists (BHS) is a 2nd generation family-run business with five locations across Mid-Michigan. Since becoming president, Dr. Cathy Bieri-Ryan has been steadfast in maintaining her father's values – providing the area's largest selection, employing the most talented staff, and patient satisfaction above all else. However, a recent expansion combined with growing online competition resulted in offices operating at just 65% capacity. BHS needed a marketing plan to reinforce their practice as the local authority in audiology.
Campaign Strategy
Bolstered by the 60 years of trust Bieri had earned from their community, HMMG developed a powerful campaign that revitalized Bieri's image and their appointment book. Their ads were strategically sequenced for optimal performance across premier media channels like Midland Daily News, top search engines like Google, and a network of popular sites targeting their ideal patients. All of the traffic from their campaign was delivered to a completely redesigned website, highlighting Bieri's unique approach to patient care and prominent calls-to-action, turning casual browsers into new patients.
Campaign Elements
Print Advertising
BHS stands out from competing hearing specialists with a dominant monthly presence in Midland Daily News' Senior Scope. Seasonal ads that include high-visibility newspaper wraps and full-page ads promote annual holiday giveaways, lunch & learns and other events for greater community reach.
Website Design
A search-friendly professional website was designed to drive new patients and a strong online brand – featuring Bieri's accreditations, promotions and several calls-to-action. The result was thousands of new patient inquiries through calls and form submissions over the last year.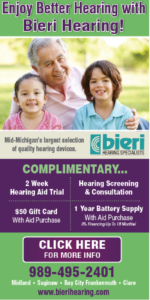 Audience Extension Display
Display ads were promoted on a wide network of websites targeting Bieri's ideal patients based on their 3-county geography, income, age, and demonstrated interest in audiology and hearing. Compelling creative highlighting complimentary services and promotions enticed online audiences to engage and inquire online.
Testimonial
"Hearst Michigan was the driving force behind the huge success of our Midland office. Our schedules are consistently filled over two weeks out and we have their publication and fantastic account team to thank!"
Jerd Clayton | Director of Operations