CANNABIS MARKETING
Legal marijuana sales in Michigan grew to over $1.79B during 2021 and are expected to see continued growth in years to come. (Source: Michigan Marijuana Regulatory Agency (MRA))
A pioneer in cannabis media, Hearst is bringing its world-class solutions to Michigan. Partner with Hearst Midwest Media Group to target and reach your ideal audience and capture your piece of this rapidly growing market segment.
Putting Cannabis in the Spotlight
Hearst Midwest Media Group brings you Michigan GreenState, a magazine and digital media hub, with special sections that reflect epicenter of the legalization movement: innovative, iconoclastic, inclusive. Through engaging, thorough service and lifestyle journalism, GreenState answers the questions and covers the topics that matter most to the cannabis curious.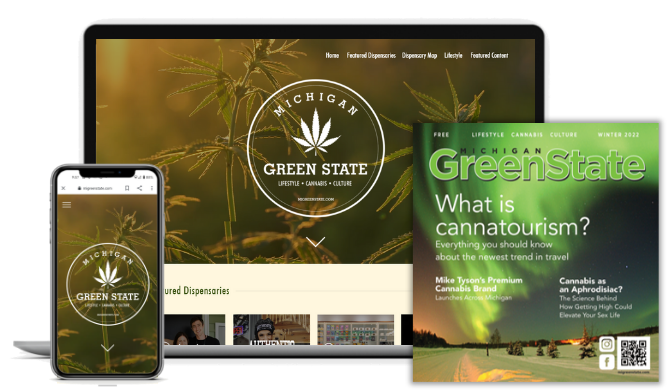 Watch the video to tour the Michigan GreenState hub and complete the form to secure your FREE dispensary listing.
Michigan GreenState Sign Up